Try this recipe topped with some sprinkled powdered sugar using the fun gadget below one morning and see the smiles on your kids' faces! :) This one is with fresh blueberries from our Farmer's Market here in Carlsbad.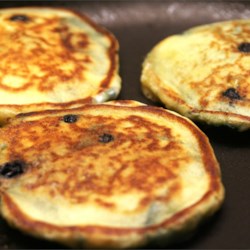 Ingredients
1 cup rice flour
3 tablespoons tapioca flour
1/3 cup potato starch
4 tablespoons dry buttermilk powder
1 packet sugar substitute or one tsp. Splenda
1 1/2 teaspoons baking powder
1/2 teaspoon baking soda
1/2 teaspoon salt
1/2 teaspoon xanthan gum
2 eggs (You can also use 4 egg whites)
3 tablespoons canola oil
2 cups water
Directions
In a bowl, mix or sift together the rice flour, tapioca flour, potato starch, dry buttermilk powder, sugar substitute, baking powder, baking soda, salt, and xanthan gum. Stir in eggs, water, and oil until well blended and few lumps remain. Fold in any additional additives like fresh blueberries, raspberries, banana slices or even chocolate chips!

Heat a large, well-oiled skillet or griddle over medium high heat. Spoon batter onto skillet and cook until bubbles begin to form. Flip, and continue cooking until golden brown on bottom. Serve immediately with toppings of your choice. Mmmm...enjoy!.
Nutritional Information
Amount Per Serving Calories: 147 | Total Fat: 5.8g | Cholesterol: 37mg
~Bridget